With over 200 nationalities living together, UAE is a country where cultures meet. Yet, not necessarily advertising strategies have been mostly generic. Marketers who call it MENA or UAE market may not be doing justice.
One of my favourite UAE based Twitter handles (for interactivity and engagement), @khda ( Knowledge and Human Development Authority, Dubai) shared a simple stat about how a simple boy's name 'Mohammed' is spelt 37 different ways among school kids in Dubai's private schools. Girl name 'Maryam' is spelt in 15 ways.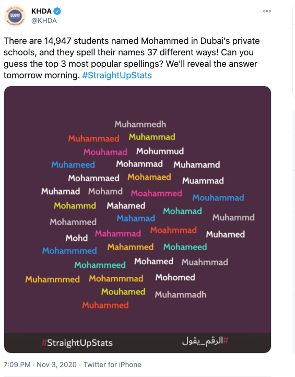 None of these names are spellos. It is just the way culturally diverse the city of Dubai has become. Differences are more than spelling of these two names. This calls for a conversation around cultural diversity in the UAE from a marketing point of view.
Deep down inside, the way people think, the way people consume and the way people buy are all dependent on their cultural traits. We are blessed to be living in a culturally diverse and welcoming country like UAE, but are we putting enough effort into marketing to this diverse audience?
Is the one-size-fits-all marketing model really working in this digital era?
We see this differentiation in 'sales' every day, in every corner. We are not surprised to see how specific car brands are popular with certain ethnic groups. At the mall, watch a kiosk salesman for five minutes, and you would notice how his approach will differ based on the ethnicity of the customer.
Starting from brand campaigns to more tactical and lower funnel e-com conversion campaigns, the role played by cultural thought patterns are becoming more and more critical and diverse. Data based campaign activation remains at the core of any possible solution. By data, I mean structured, pure data which can be filtered to provide quality insights.
Data: use data driven tactics to segment and pull out insights on your customers. This data-backed insight is pulled back into marketing to that specific segment.
e.g.: My mid-level customer from India living in UAE (a segment with ARPU of AED 20,000 per year) would purchase for AED 15,000 between the months of October and December every year.
Worldwide, mid-to-high level brands are recognising the importance of connecting data with marketing. Data Management Platforms (DMPs) can be build in-house or with partnering with third party providers. Brands can continue depending on Facebook and Google for second party and third party data but it is not a wise option in terms of 1) data exclusivity, 2) data as a long term asset and 3) privacy/data safety concerns.
Having strong insights on various consumer segments based on data is a good starting point.
Emotion: The emotional trigger that worked for an audience segment may not work for another one. Even most basic emotional triggers, like trust and optimism, vary vastly based on cultural values and thought patterns.
e.g.: A first-time mom from India is more likely to discard random advice on the internet. She would trust her family advice with such matters more than her counterpart from Europe.
Creative: Most brands are unsure about how to club creative optimisation with available data and emotional triggers. They end up using multiple creatives with ethnic faces and call it 'creative optimisation'.
Thankfully, we live in an era of dynamic creative optimisation, when you're unsure what creative resonates with different audiences. Facebook's DCO has faced some rigorous testing and there are reports of a 55% lower cost-per-conversion for ads using dynamic creative.
e.g.: Some communities are more open to a creative around 'quality family time' if there is a mobile phone in the son's hand. For some, it is impossible to have a quality time with family with a mobile phone around.
Data activation in marketing campaigns is not new but data activation in marketing communication is yet to find many takers in such a diverse market.