It is no secret that the Middle-East is a key growth region for the games market, and Saudi Arabia is at the heart of it. Let's look at how Gaming has become ubiquitous within Saudi Arabia's online urban population. To give you a context, it is easier to find a Covid-19 vaccine than PS5 in some parts of the country.
The government push for gaming in Saudi
The Saudi Arabian government, which owns Public Investment Fund, has recently increased digital investments to diversify the country's economy, in line with its Vision 2030 program. The Saudi Arabian Federation for Electronic and Intellectual Sports (SAFEIS) along with the General Sports Authority is keen to develop the esports ecosystem. They've also invested in digital companies around the world including Activision Blizzard, Electronic Arts, Take-Two and JIO.
Closer home, telcos are being pushed to provide the best experience for gamers, raise the level of transparency in the market and enable investors and the public with key data and indicators on the sector's performance. Saudi Arabia's communications regulator has launched a new initiative aimed at enhancing the country's booming gaming sector, which is forecast to nearly quadruple in size by 2030. Their Game Mode initiative includes the launch of a quarterly award for the internet service provider with the best response time for video gaming, a key indicator of the network's performance.
A vocal gaming community in KSA
2020 was the year when gamer community really went vocal with their skills. Players like Saudi Arabia's Mosaad Al-Dossary, known as MSDossary7, who won the FIFA eWorld Cup, coupled with mass initiatives like 'Gamers without Borders', a Saudi-led global initiative to fight Covid-19, has catapulted the country to the global gaming scene.
Successful gamers love to show their game. People have tweeted 2 billion times about gaming! According to Twitter, 48% of gamers on Twitter in KSA became a lot more interested in gaming over the past year.
Insights from #twittergaming event in April 2021
On Instagram,  Saudi gamers enjoy a vibrant following from around the world.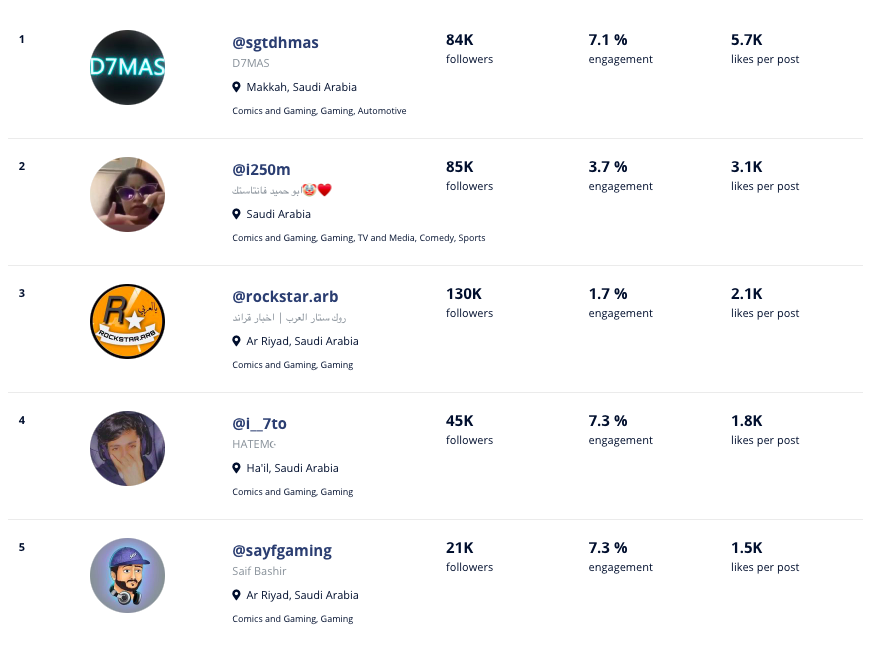 You can find a longer, more updated Instagram list here
Top female gamers in KSA
There are about 2.23 million female gamers in KSA, and some of them could be legitimate world- beaters. That's a whopping 40%. Most often, they make the choice to not go professional due to cultural norms and the lack of support and understanding from families. Saudi female gamers, when prompted to participate in competitions are known to ask – Do I need to show my face?", "Do I need to go on stage?" and "if they have to travel". Many women prefer to remain anonymous to avoid harassment. However. it is encouraging to see them acing girls-only tournaments with skills second to none.
Let's not forget that video games are historically marketed towards boys. In Super Mario, Mario is the hero and has to save the princess. There are many many such examples even in 
The WHALES
Global game developers love Saudi 'whales'.  Whales are dedicated players who pay to speed their way through the levels of a game faster than they could free, typically averaging about $5000 per game. Not just developers, even OEM brands likes Intel, Microsoft and Sony PlayStation, are focusing on the Saudi market with special launches, roadshows etc.
Other CONTRIBUTORS
Saudis are competitive by nature. One of the easiest ways to have fun together in scorching temperatures is to plug in the console and start playing. When cousins get together every week, which is culturally common, watching esports is a form of entertainment – it's like watching football or any other sport.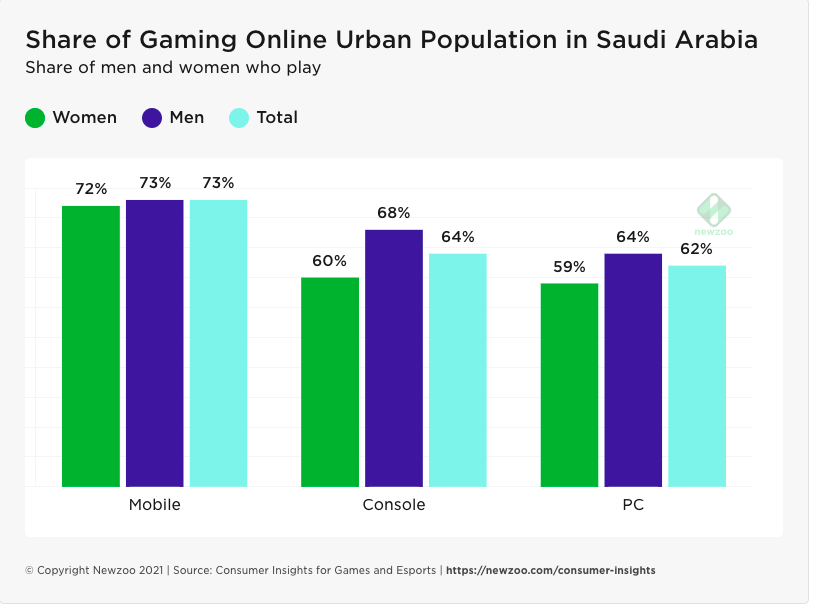 Converting players into payers is notoriously difficult on mobile but less so on console.
According to research by Newzoo, an impressive 39% of Saudi Arabia's online population say they enjoy puzzle games on mobile—a key genre on the platform. Other popular genres are sport (34%), racing (31%) and adventure (29%).
Gamification of ads
Thanks to this influence, gamification is been proven to increase customer retention, engagement, and loyalty. Let's watch for action in this space, while wishing you all a wonderful Ramadan and Eid in advance.