TikTok was the most downloaded app from Q1 to Q3 2020. Many marketers and brands in the GCC region are actively analysing the potential to influence on TikTok. Let's have a closer look at what we have at stake, especially in UAE and KSA.
According to App Annie, between April 2019 – April 2020 Category (Overall), Tiktok was the undisputed leader in many countries clocking more than 2 billion downloads. It is set to reach 1.2 Billion Average Monthly Active Users in 2021 even with ongoing operational issues in mega markets like India and USA.
TikTok has topped the download charts in UAE and KSA for a while now. The latest numbers for Q4,2020 are not out yet, but we can safely assume that Covid has only accelerated the growth numbers in the region. TikTok owner, ByteDance has been investing heavily into the GCC market with roadshows, events and a massive hiring spree. They were even seen sponsoring fitness sessions at Kite beach Dubai during Oct 2020. Firstly, the app
How Does TikTok Work?
Content on TikTok feels more "real", it's more relatable. It is less 'polished' than other social media. There is no space for boring institutional content from brands on TikTok.
It's a happy place compared to Facebook and Twitter. This factor helped TikTok grow rapidly during the stressful Covid lockdown period.
When compared with Instagram, TikTok is more focused on the content itself and less on the aesthetics. On TikTok, what counts is not how the profile looks, but whether your content is good or not, which many consider as 'fair social justice'.
Unlike other platforms, TikTok made it really easy to edit content inside the app. TikTok's editing function is extremely user-friendly and offers a large variety of different tools, effects etc.
TikTok's FYP – 'For You Page' shows users a stream of popular content and it is the first thing you see when you open the app.
FYP can get even regular users' exposure. This is considered a great advantage for newcomers.
For You Page is also where people spend the most of their time on the app!
A huge chunk of Tiktok users are converts- they thought TikTok was "just an app for kids" but then changed their mind when they downloaded the app.
It's super easy to download videos from TikTok and share on platforms like WhatsApp.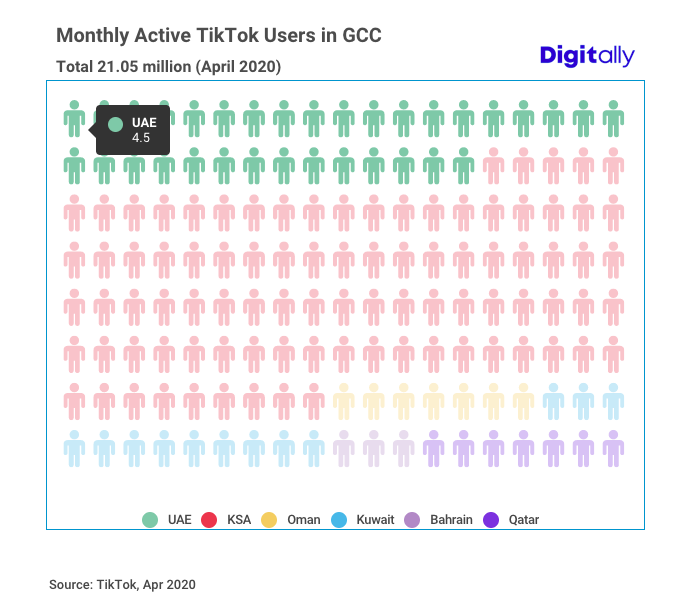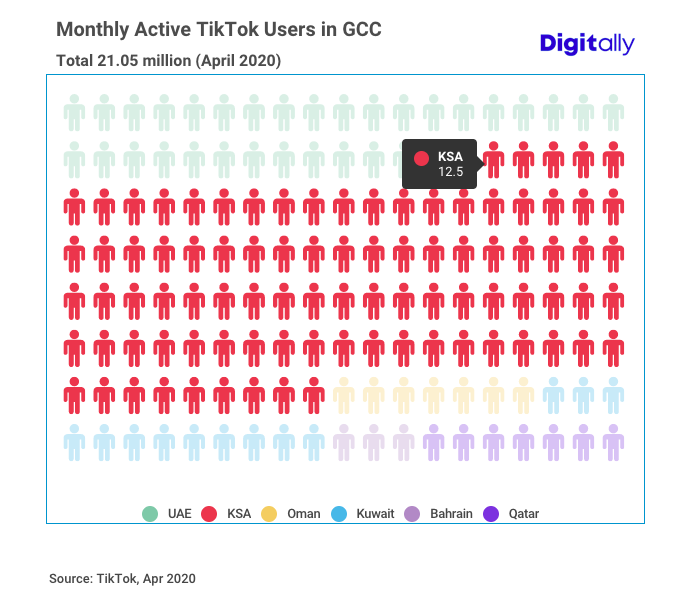 TikTok Users In KSA: 12.5 Million
If you look at Average Session Duration in GCC, TikTok is competing with YouTube than with Facebook, Instagram and Snapchat.
YouTube: 6.29 minutes
TikTok: 6.1 minutes
Facebook: 3.4 minutes
Instagram: 2.42 minutes
Twitter: 2.22 minutes
(App Annie, March 2020, Average Session Duration in GCC countries)
Average hours per user per day is also remarkable. It has been increasing with better content creators joining the platform and making it their primary platform. YouTube, which has long enjoyed the status of an entertainment destination in KSA, is the biggest loser with TikTok's growth.
TikTok started off as a social media app with rather light, humourful and entertaining content focused on talent, comedy, dance, music or lip-sync, mainly targeted towards Gen Z. However recently, as TikTok has been growing rapidly, user base of the app has become more diverse.
The main trigger is 'the videos are funny', followed by 'it's a good way to relax and forget about all the issues for a little bit'. According to TikTok media deck, user interests range from beauty to fashion, and from family to electronics. The fact that people are getting bored of Facebook and Twitter could also be a contributing factor.
TikTok isn't actually all that hard to get into thanks to the power of recommendation algorithms; the app's endless For You page initially seems like an overwhelming well of content, but all you have to do is scroll and like the videos that make you laugh, smile, or feel whatever emotion you want to replicate over and over. Eventually, TikTok will get a pretty good grasp on the kinds of videos that you're all but guaranteed to like, but by that point, you'll probably already be spending countless hours on the app. – thrillist.com
In the world of social media networks, stickiness is the most important factor.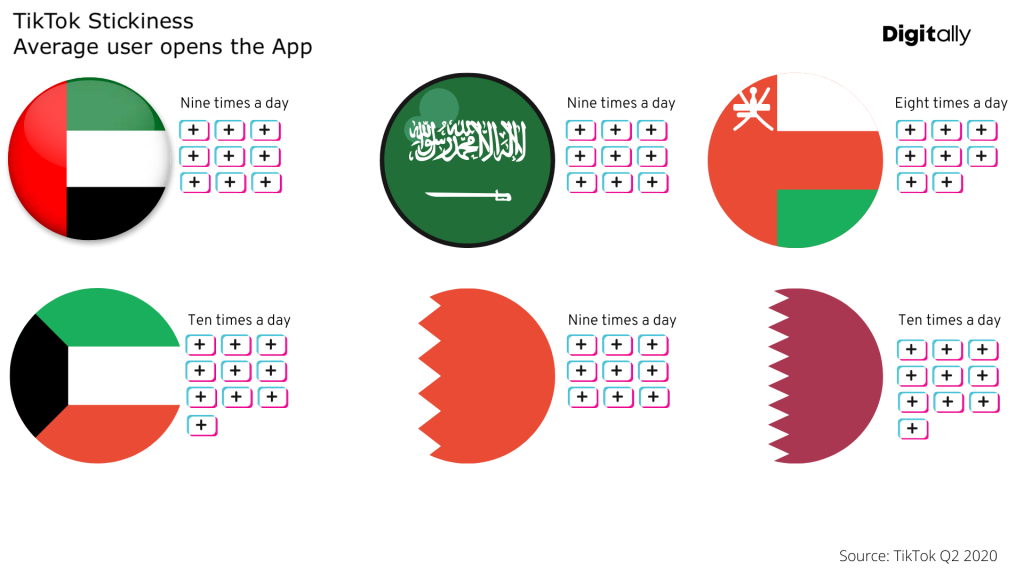 TikTok Usage Patterns In UAE and KSA
Shifting time from TV and YouTube to TikTok
The rise of TikTok has disrupted the way people consume video content. Globally, Tiktok users spend an average of 40min per day watching TikTok videos. It is about 52 min in the GCC.
Any time is primetime on TikTok
TikTok viewers consume content throughout the day. From morning coffee time to time in-between afternoon errands. All a brand needs to do is to create new, ownable moments to connect with these audiences, any time of day.
"Just one more video" mindset
Shorter format of TikTok videos works well in today's world where the average attention span is estimated to be only somewhere around 8 to 12 seconds.
The short format also frees creators to be more creative and upload only their best work. On the contrary, on YouTube, creators are under pressure to publish longer videos since their income depends on it.
TikTok is not second-screen
Only a small percentage of TikTok users (7.7% globally) view TikTok with the TV on. This gives TikTok ads an immersive video experience with no distractions.
Our Favourite TikTok Campaign In GCC
Dubai Tourism had a regional social media campaign #ThisisDubai. As part of the partnership, TikTok, which was then available across 150 markets, created bespoke AR stickers with exclusive Dubai themed music inviting participants to capture striking aspects of the city. Over 30 million views and 9,800 videos created with posts showing users enjoying an only- in-Dubai experience
Influencers
Most of TikTok's successful content creators in the region are cross-over influencers from other platforms like Instagram and Snapchat. Influencers who are mindful of the format are creating lighthearted content on TikTok. The new influencers on the platform are all highly creative content creators, putting out skits and routines around a range of topics such as fashion, beauty, comedy or dance. While these subjects, particularly fashion and beauty, align with the interests of popular influencers on other platforms, the key is to package the content in a way that appeals to the often younger audience on TikTok.
TikTok's algorithm is quite welcoming – for now. If the content is both interesting and relevant, the creator will have a better shot at sustained organic growth than he/she would on Instagram, Snapchat or YouTube.
Being Legally Safe
Brands planning to explore TikTok as a communication platform should keep couple of legal aspects in mind.
Influencers, can't use music/audios/other content made available by TikTok in their content if the activity is a promotional activity. Additionally, they can't use any music/audio/other content which is not created by them UNLESS they have a relevant licence to do so. This is relevant even if the generated content is published on other platforms like Snapchat or Instagram.
TikTok/other users/or third parties have the right to use or modify the content created by influencers.
Paid Advertising on TikTok
TikTok offers a wide variety of choices, from conventional in-feed ads (which look a lot like Instagram stories and Twitter fleets) to elaborate hashtag challenges and custom effects.
Just don't use boring institutional content on Tiktok. It is just not the place for it. Keeping your production value low helps your view-through rate, too, as users will watch for longer before realising they're staring at an ad.
In-feed ads appear as users scroll through the app, between two creator videos. It sounds intrusive, but as long as the ad feels native, this format has great potential.
A hashtag challenge is an innovative ad format on TikTok. It allows you to create a challenge that will then get promoted on the app's explore page. The challenge itself could really be anything. There are plenty of options and hardly any limits.
To take your in-feed ad to another level, you could go with a top view ad. It's a full-screen video that users see immediately when opening the app.
Another step further is a brand takeover. Much like a top view ad, it's the first thing you see when you open TikTok, but this will be a three-second gif or an image that allows you to link to something like a hashtag challenge.
The platform also offers high-end custom filters (similarly to Snapchat) and influencer tools to boost brand campaigns.
Targeting Capabilities for TikTok In-Feed Ads (Auction vs Reservation) – Q3 2020

TikTok is on a rapid growth curve in the GCC region. As they are updating their ad offering on a regular basis, please check with your agency partner (digitally.ae?) for the latest chart.
Sources:
AppAnnie.com
Businessofapps.com
Sensortower.com
IndaHash internal TikTok 2020 survey
TikTok Media Deck Q1 2020