Saudi Arabia is among the top global markets for the Korean pop music known as K-pop. UAE is equally crazy about the genre, if you look at recently released stats from Spotify and Twitter. Time we took a closer look at this cultural phenomenon among teens in the Middle East.
What is K-pop?
Not sure what it is? This is where you start feeling like you were living under a desert rock all these years. Korean Pop, or K-pop, is a genre of music originating from South Korea that encompasses a variety of styles. They are essentially catchy pop songs with choreographed dances in slick music videos. Comparing their cultural power with 90s era boybands would be gross injustice.
K-Pop, in itself, is a great content marketing case study. There is a fascinating story behind how J-pop or Japanese pop of 1990s, which emulated the popular bands of the West with some local flavours, started getting overshadowed by K-pop in 2000s, thanks to the global reach of YouTube and The Ministry of Culture of South Korea's concerted efforts to popularise Korean culture by investing in local talent. Then came Psy's Gangnam Style, with more than three billion video views, which contributed largely to the worldwide attention on K-pop.
Fans consider K-pop to be an all-encompassing genre exhibiting a broad range of musical and visual elements. BTS aka 'Bangtan Sonyeondan' (Bulletproof Boyscouts) is the most popular K-pop group currently with an 'ARMY' of millions of followers. BTS are synonymous with K-pop's 3rd gen, with first generation being bands that emerged in the mid-1990s, and the second generation in the 2000s. It is this third generation, powered by internet, that took K-pop to the global music market. All in all, it is now a multi-billion-dollar industry always waiting for its next big global hit and merchandise release.
How big is it on the internet?
Bloomberg reports K-pop army strong enough to troll the likes of QAnon and 4chan. A recent spike in American and European college students studying Korean is attributed to their eagerness to understand the lyrics of their favourite songs. It's a $4.7 billion industry, there are more than 80 million K-pop playlists and over 2.4 million hours have been spent streaming K-pop music on Spotify alone.
India, one of K-pop's biggest markets, has developed a fascination for all things Korean. It has developed into a prominent subculture among India's GenZ, further driving other cultural exports like K-beauty and K-food. The Korean cultural wave, called Hallyu, has hit one of the most populous countries in a big way.

Hallyu Wave or Korean Wave was coined by Chinese journalists in 1999 referring to the phenomenal interest and popularity generated by Korean pop culture and the country's culture in general. It includes Korean brands such as LG, Samsung, Hyundai, Kia and others.
Despite numerous cancelled concerts during COVID-19 pandemic, there were no drops in #KpopTwitter conversations, according to Twitter. K-pop are reported to have their its own language like bias, bias wrecker, stan, skinship, maknae and OTP.
There were were 6.1 billion related tweets during 2019, up 15% from the 2018 total.
How big is K-Pop in Middle East?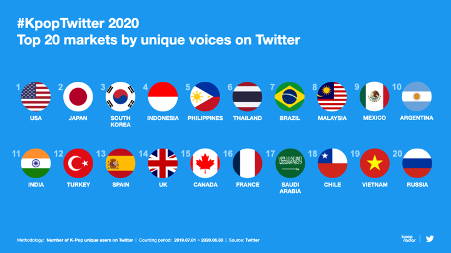 If we were to trace the origins of K-pop craze in the Middle East region, it started with Korean dramas of late 1990s and early 2000s. Experts attribute the lack of nudity or clothing that could be considered vulgar as part of the appeal, particularly in conservative cultures. It is really big in KSA, UAE, Egypt and Morocco.
Outside of South Korea, Saudi Arabia is one of K-pop's fastest growing markets. The Kingdom ranked 17th globally in the number of K-pop unique users on Twitter between July 1, 2019 and June 20, 2020, a period in which the country hosted live concerts featuring BTS and Super Junior – two of the most popular K-pop bands worldwide.
Big news for Saudi Armys! @BTS_twt will be the first foreign act to hold a stadium concert in Saudi Arabia. They will play at King Fahd International Stadium on Oct. 11. 💜 pic.twitter.com/LKuM2AmqHu

— KpopHerald (@Kpop_Herald) July 14, 2019
Super Junior played at the Jeddah Season on June 12, 2019, with videos of screaming K-pop fans chanting the group's name challenging many outsiders' view of the Kingdom. At the venue, Super Junior shouted "I love Saudi Arabia" and welcomed fans in Arabic, exclaiming: "Assalam alaikum." It was a dream come true for many fans.
جمهووور السوجو 😍❤ @SJofficial
#سوبر_جونيور_في_موسم_جدة pic.twitter.com/wrGmZ9hd5L

— تقويم فعاليات جدة | Jeddah Events Calendar (@JEDCalendar) July 12, 2019
Acting as another reflection of this cultural phenomenon, Spotify named Saudi Arabia, the UAE, Egypt, Morocco and Algeria as the
big five MENA streamers of K-pop (January 2014-2020).
Mega-group BTS, have already enjoyed their biggest international chart success yet with hit single "Dynamite" in 2020, which became their most listened to track across the UAE, Saudi Arabia and Egypt and set a new record on Spotify.
K-pop and 'Hallyu' has emerged as a powerful marketing tools for Korean consumer goods.
It's hard to pinpoint exactly how the K-pop craze first arrived in the UAE. But it's been around for a while – K-pop bands such as Super Junior, Big Bang, 2ne1, SHINee and TVXQ were big in the mid-2000s, after ­becoming popular on YouTube.
Dubai Tourism has capitalised on K-Pop's popularity in Dubai by including Exo's Korean-language track 'Power' in The Dubai Fountain's playlist.
#Kpop band @weareoneEXO takes over @BurjKhalifa: https://t.co/a3pqosx62I pic.twitter.com/nQeHuz2CVk

— Dubai's Department of Economy and Tourism (@DubaiDET) July 15, 2018
We saw marketing blitz around PUMA x BTS Basket Patent Sneakers and LG Q7 x BTS edition phones in Dubai.